M.G Creations - Braided rug manufacturers, suppliers and exporters
Manufacturers of braided rugs
We, M.G. Creations, are braided rug manufacturers from India. We manufacture and export best quality braided rugs to USA, UK, Europe, Middle East, Australia, Latin America, Asia and many more. We have a specially curated collection of braided rugs made of pure natural fibres like cotton and jute. We are a goodweave certified rugs manufacturer and follows all goodweave production standards.
Braided rugs are a very unique type of rugs that are known for their spectacular looks and amazing method of manufacturing. They are used for decorating our houses in different ways while giving unique look to our decor. They can be used in the home corner, as runners alongside beds, center rug for drawing room or living room, etc. The method of manufacturing a braided rug involves the weaving of yarn in the form of braided threads by a braiding machine. Then the breaded threads are stitched together by a zigzag machine in various shapes. The braided rugs can be categorized on various bases, a few of them are given below.
Jute braided rugs: Jute braided rugs are manufactured from jute yarn braids, jute is a natural fiber that upholds our commitment to manufacturing only environment-friendly products. Jute is also a very durable fiber therefore a braided jute rug can withstand rough and tough usage. High-quality jute is very soft in texture. A person can step on a jute rug barefoot without worrying about pocking.
Cotton braided rugs: Braided rugs can also be manufactured from cotton braid yarns which are also a natural fiber. Cotton or jute both gives a fantastic finish making your rug look very luxurious. All cotton-made products are very cozy and soft therefore children can play on them. 
M.G. Creations- Manufacturers, suppliers & exporters
Plain braided rugs: Plain braided rugs give a very simple and sober look as natural jute yarn has a tan brown color which perfectly blends with surrounding home decor. Jute or cotton can be yarn died as per the requirement of the buyers, therefore, making different plain color rugs. 
Printed braided rugs: various beautiful designs can be printed on braided rugs. Designs can be of flowers, antique designs, animal designs, inspirational quotes, or theme-based designs like Christmas, Thanksgiving, Halloween, etc. We can say that infinite designs can be printed on braided rugs as per our liking.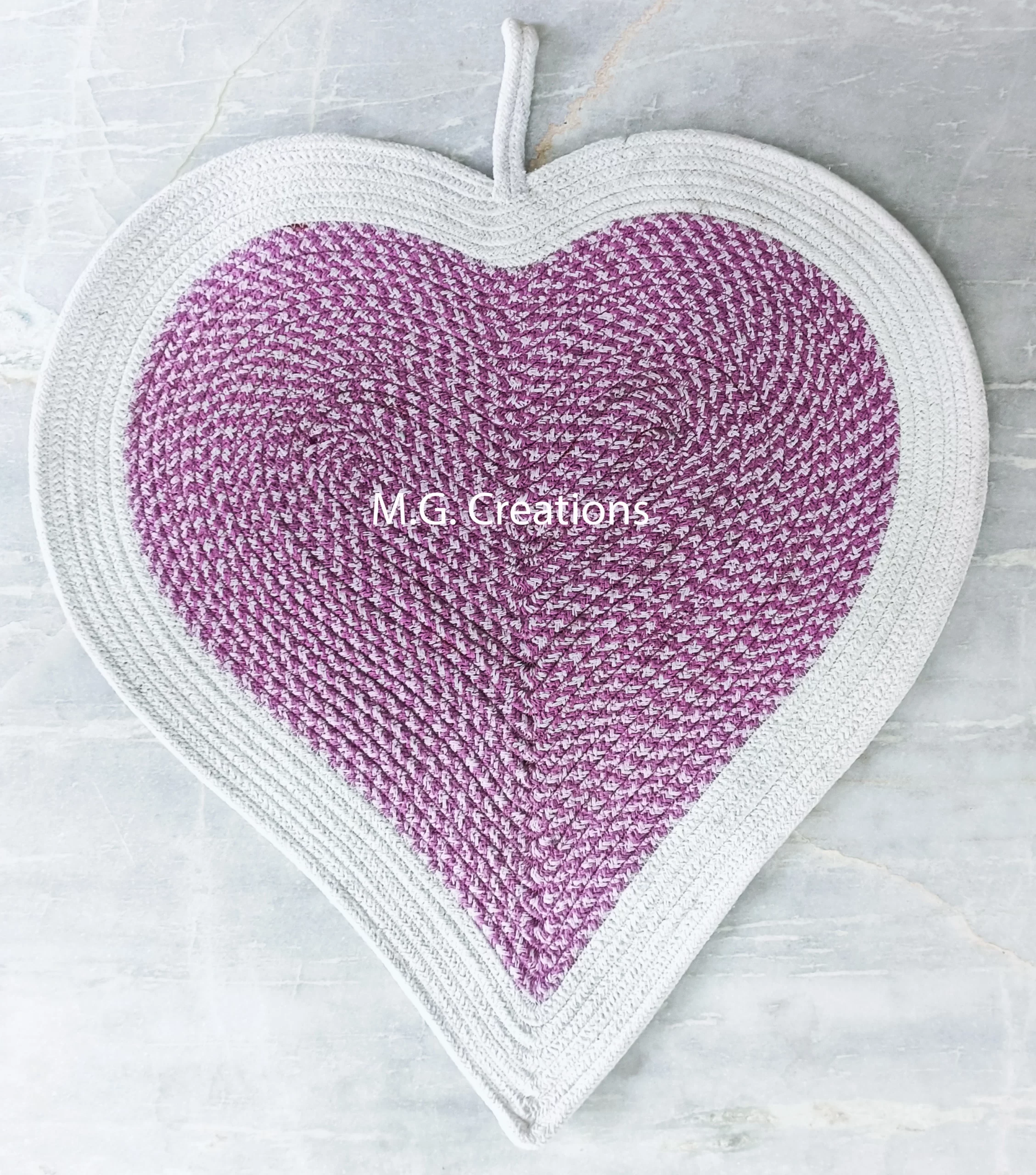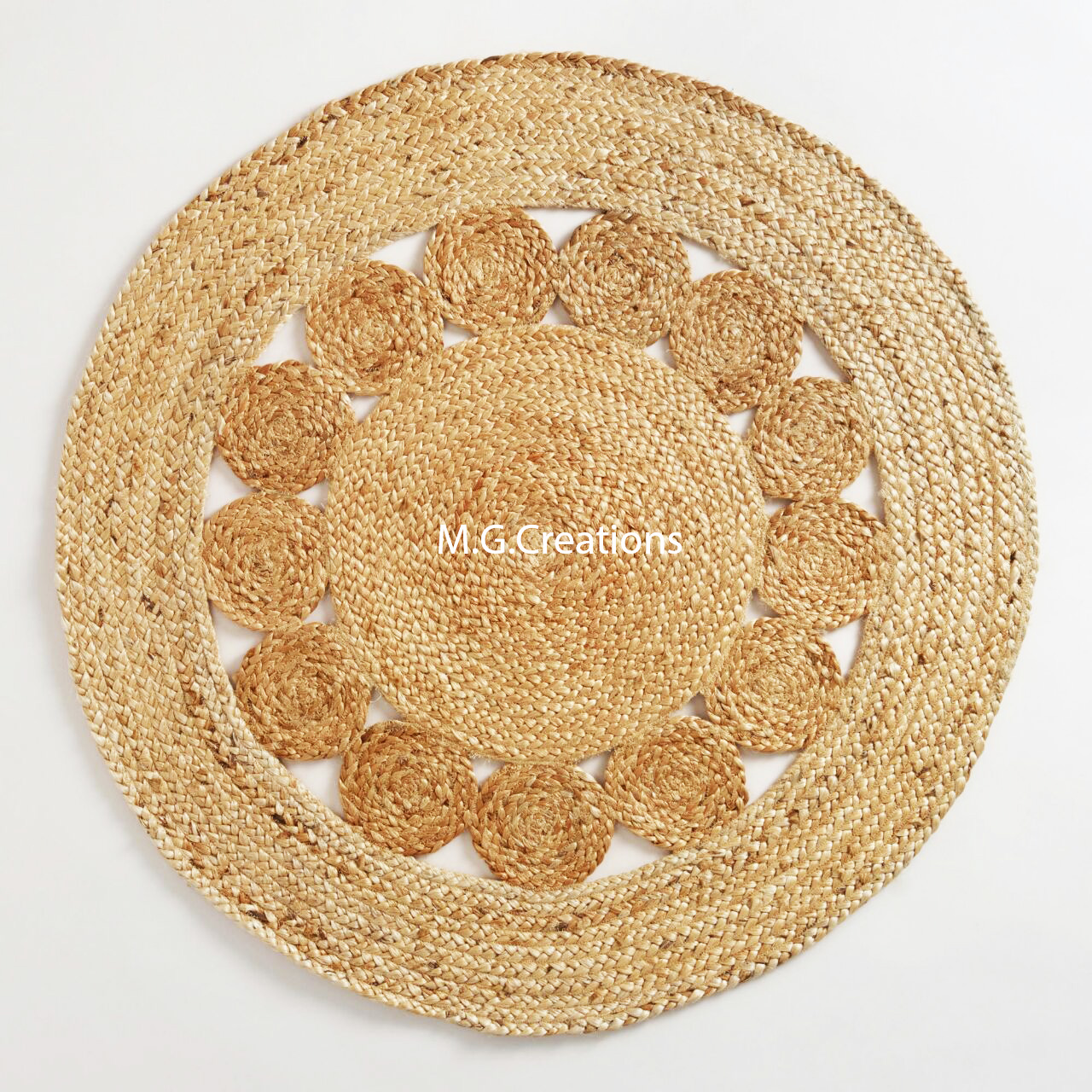 Goodweave certified company
The shape of braided rugs: braids can be weaved in different shapes as per our liking and customer requirement. Some common shapes are given below.
Rectangular

Square

Oval

Circular

Leaf shape

Heart shape
These are the most common shape and various designer shapes are possible and some of them are shown in our unique collection.
We, M.G. Creations manufacture custom braided rugs as per the clients' requirements. We are a good weave certified rugs company and follow all goodweave manufacturing procedures. We believe in sustainable and environmentally friendly growth. We manufacture and export all types of rugs worldwide.